2
12 Best Fishing Kayaks Under $1000 2021
Kayaking is a great way to spend your free time doing something that isn't physically extreme, yet still very enjoyable and healthy. For people who love going to the beach or the local lake, kayaks can elevate that experience even further, allowing you to be closer to the action. Fishing is something that has always been popular with kayak owners. If your interest is just to fish, then fishing kayaks present a less bulky and decent alternative to boats. Kayaks are incredibly light as compared to boats, and if you opt for the inflatable models, you can carry them like a backpack to the lake. In this article, we'll be looking at the best fishing kayak under 1000 dollars.
One of the distinguishing features of the fishing kayak is that the seats are normally much more comfortable than your average kayak. That's because angling can be a time-taking process, and seating comfort definitely helps in passing the time. Fishing kayaks also tend to be much more stable because chances are that fishermen would like to stand on the kayak to catch the fish.
Top Fishing Kayaks Under $1000
The list of fishing kayaks we've compiled includes the best fishing kayaks that are available under $1000. We selected these kayaks on some crucial attributes including affordability, durability, and reliability.
Perception R15 Pescadors 120 Kayak
Best Kayak Overall
Check Perception R15 Pescardors 120 on Amazon
| Pros | Cons |
| --- | --- |
|  Durable material |  No paddles |
|  Adjustable seat | |
|  Stability | |
|  Storage space | |
For those who want a great fishing kayak under 1000, the Perception R15 Pescardors 120 should do the job pretty well. This is a fishing kayak that comes with the absolutely necessary features required for a perfect fishing experience. Sure it's not the most top-feature kayak out there, but then it is a good buy considering the price.  You can buy this kayak if you're looking for a simple fishing kayak that is easy to take care of.
If you're planning on going fishing alone, the R15 is a no-brainer. This kayak has been built for solo fishermen and there's plenty of storage space available to take care of your gear and other equipment.
Comfort is a big factor in a fishing kayak, and the R15 Pescadors doesn't disappoint here. It comes with the Comfort Seating System, which allows you to adjust your seat so that you can catch fish with ease. It wouldn't be a stretch to recommend this kayak to be used for a complete day.
Within kayaks, R15 would probably fall into the sit-on-top category.
The kayak is made of durable material that should stand for many hours submerged in water. Its high-quality construction surprises with the price at which this kayak is being offered.
The comfortable seating position and stability of this kayak enable you to relax and wait for the perfect moment to catch fish.
This is a small kayak so it's ideal for a single person. The smaller size makes it easy to paddle and maneuver and just provides a relaxing kayak experience. The footrests of the kayak are also removable making it comfortable for tall individuals.
Once you are seated in the kayak, there isn't much space in the front. Also, it doesn't come with a paddle so you have to buy it separately.
Notable Features
Affordable price point
Comfortable Seating System (CSS) which allows you to adjust seat position for perfect body posture
Foot braces for an assuring feel and stability while angling
Lots of storage space for gear and utility items
Small size, easy to learn on for beginners
 Ocean Kayak Prowler 13 Angler Fishing Kayak
Best Ocean Kayak
Check Ocean Kayak Prowler on Amazon
| Pros | Cons |
| --- | --- |
|  Excellent quality |  No Paddles |
|  Spacious seat | |
|  Stability | |
|  Storage space | |
If you're looking for a fishing kayak that will serve you for a long time and will accommodate all skill levels, consider buying the Ocean Kayak Prowler 13. It is a sit-on-top fishing kayak that comes with the excellent build quality and stability for a satisfying angling experience.
The Ocean Kayak Prowler 13 is a very well-designed kayak that covers the basics of a fishy kayak and impresses with some promising features.
It is comfortable, with a spacious seat that comes with a backrest so you don't get a stiff back.
There's also ample storage space which allows you to keep your gear and utility items without any issue. The storage space can also be used to store your catch. On the back of the kayak, you'll find another area where you can keep things secured under a strong bungee cord. This space is ideal to keep things that you want at a moment's notice.
This kayak is best suited to water bodies with calm currents, like lakes.
Some paddlers shared that the seat of the kayak is a bit hard and you might need to keep a foam cushion on the seat.
You might also get wet as scupper holes are right under the seat.
If you're looking for a reasonably priced fishing kayak with good features, the Prowler won't disappoint you. It has good water performance, and can easily be operated by people who're just starting with kayaking.
Notable Features
Very stable; ideal for angling
A dedicated area for placing your fishfinder. This is a distinguishing feature that is not found on many fishing kayaks
The size of the kayak is quite roomy, and the storage spaces provide ample area to carry an adequate amount of gear. You can even carry a cooler on this kayak
Sealed compartments to keep your valuables safe from getting wet
Comes with a scupper that helps you drain the boat in case water comes inside the kayak
Spacious seating arrangement, long-lasting comfort for extending angling sessions
BKC UH-TK181 Sit-On-Top Tandem Fishing Kayak
Best 2 person fishing kayak
Check BKC Fishing Kayak on Amazon
| Pros | Cons |
| --- | --- |
|  Excellent quality |  Not for Ocean |
|  Two seats | |
|  7 fish rod holders | |
|  Waterproof Storage | |
Kayaking is a relaxing activity that can be enjoyed by anyone. Some people like to do it alone, but there are a lot of people who want to make it into a social getaway. For people like these, tandem kayaks are a great choice as they allow two people to be on the same kayak. This way both can enjoy the serenity of water and socialize at the same time.
The designers of this kayak have given the tandem aspect of special attention. This kayak is quite big, but none of that space is wasted.
There are 7 fishing rod holders; much more than a normal fishing kayak.
There are also waterproof storage compartments to store your valuables without the fear of them getting wet.
The kayak features two secure paddle parks that make sure that your paddles won't fall into the water when you're not using them. This is an important feature to have in fishing kayaks, as a good amount of time will be spent stationary while you wait to catch your fish.
Performance in water is quite good, keeping in mind that this is a kayak made for stability due to its intended audience. It has a 34-inch beam which enables confident tracking and stability. You can easily stand up on this kayak without the fear of it tipping over – we would say the best stand up kayak under 1000.
You're not bound to use this kayak in tandem, it is light enough to be easily operable by a single user.
The kayak has an impressive 450-pound load capacity, which is more than enough for two adults and lots of gear.
A few of the paddlers reported that the kayak is for lake water and not for ocean conditions – windy and stormy.
A paddler shared that they found some of the screws loose or come loose, so it is recommended to tighten the screws and use a locking nut to keep screws in place.
The kayak comes with two aluminum paddles and deluxe kayak seats that are very comfortable to sit on.
This is an excellent option, probably the best sit on top fishing kayak under 1000, for people looking to kayak along with a family member or friend. It also comes with a reassuring five-year warranty.
Notable Features
Modern design that looks good in the water
High weight capacity of 450 lbs; ideal for two adults
Waterproof storage compartments to store valuables
Paddle parks to secure paddles when not in use
Highly stable design
Easy to paddle and maneuver, even by a single person
Four carrying handles for ease-of-transport overland
A good accessory package that includes aluminum paddles and deluxe kayak seats
Five-year warranty
Lifetime 10 Foot Sport Fisher Tandem Kayak
Best Kayak for Space
Check Sport Fisher Tandem Kayak on Amazon
| Pros | Cons |
| --- | --- |
|  Three-person kayak |  Seats |
|  500 pounds capacity |  Weight |
|  Durable | |
|  UV protected | |
Want a kayak that can carry three people and is fairly priced? Look no further than the Lifetime 10 Foot Sport Fisher Tandem Kayak. Costing at just over 500 dollars, this is one of the cheapest kayaks that will seat three people in complete comfort. The low price of this kayak doesn't mean that the built quality is average. Quite on the contrary, this kayak uses superior materials and robust construction.
This kayak comes with an enormous weight capacity of nearly 500 pounds, which is enough to allow three fully grown adults to be on it. The kayak features three points for fixing kayak seats.
It is made from high-density polyethylene which gives it strength and durability. The kayak is UV-protected which fights against fading, cracking, and peeling.
Lifetime is quite confident in the quality of this kayak, evident by the 5-year warranty with a new kayak.
The hull of this kayak is designed in such a way as to maximize stability, allowing it to stay completely level in water with three people.
The sides of the kayak have multiple footrest positions, so the users can get the perfect amount of legroom depending on their size.
The Lifetime 10 Foot Sport Fisher comes with everything you need to go fishing. The accessory package includes 2 double-sided paddles, paddle clips, 2 padded backrests, 3 fishing pole holders, and a 6' storage hatch.
However, some paddlers reported that the kayak is heavy, and transportation can be a consideration when buying this kayak.
If you have a bad back, you might need to change the seats as well.
Notable Features
Stable performance in the water, even while carrying 500 pounds
The hull design allows the paddler to stand on top of the kayak
Designed to carry up to 3 people in comfort
3 fishing pole holders, perfect for 3 people
The cockpit is equipped with a scupper which helps drain water
FeelFree Moken 12.5 Kayak Winter Camo
Best Kayak for Maneuverability
Check FeelFree Moken Kayak on Amazon
| Pros | Cons |
| --- | --- |
|  Catchy color |  Slow kayak |
|  Waterproof storage | |
|  Stable | |
|  Maneuverable | |
The FeelFree Moken 12.5 Kayak Winter Camo is basically just another good quality fishing kayak, but it comes with a very attractive paint scheme that is sure to catch eyes. The kayak comes with a Uni-Track quick release system which lets you customize it as you see fit with some of the best accessories in the industry.
The kayak also features a waterproof storage area where you can store valuables. This storage area is sealed with an easy seal hatch, which is said to be the driest hatch on the market.
This kayak has good performance in the water, being easy to paddle and maneuver.
It is also quite stable and you can easily stand on top of it to get that perfect angle.
The kayak also has a wheel which makes it easier to transport.
However, some paddlers shared that the kayak immediately stops if you stop paddling, and it takes a lot of effort to paddle it.
The kayak is on the slower side. In a headwind situation, it is difficult to keep the kayak moving forward and a lot of energy is needed to get going.
Notable Features
Adjustable footrests for maximizing comfort
Equipped with a wheel that makes overland transport much easier
A standing platform makes standing on top of this kayak easy
Rod storage system for fishing poles
Kayak seat included
Perception Pescador 12.0
Best Built Kayak
Check Perception Pescador on Amazon
| Pros | Cons |
| --- | --- |
|  Good construction |  Rod holder position |
|  Two storage areas |  Slightly heavy |
|  Stable | |
|  Legroom | |
The multipurpose use of Perception Pescador 12.0 makes the kayak admired amongst fishing hobbyists and leisure kayak paddlers. The design of the kayak helps it track straight in different water conditions – the manufacturer of the kayak recommends it for coastal waters, slow-moving rivers, and lakes. The construction quality is A grade.
The kayak is stable and it is easier to get in and out without the fear of tipping it over.
The kayak weighs 57 lbs and has a weight capacity of 375 lbs.
The 12-feet kayak is great for tall paddlers because of the comfortable legroom.
The seat of the kayak is super comfortable – great for pulling all-day trips.
There are storage areas at the front and back which are good enough if you plan to take some items with you.
The one drawback in Pescador 12.0 is the placement of the rod holders. They're positioned at a place where you occasionally knock your fishing rods with your paddle.
The kayak is also slightly heavy.
Notable Features
Stable and fast
Adjustable & comfortable seat with legroom
Front & back storage areas
Rod storage system for fishing poles
Adjustable footrest
Old Town Topwater
Best Kayak for Stability
Check Old Town Topwater Kayak on Amazon
| Pros | Cons |
| --- | --- |
|  Extreme stability |  Pedal drive is heavy |
|  Good storage |  Not easy to transport |
|  Maneuverability | |
|  Element Air System | |
The new topwater kayak offers you an ultimate compact package for fishing. It is specially designed for fishing in small lakes and ponds which are difficult to access with larger kayaks.
Its key features include excellent maneuverability and high stability through any water conditions because of the ultra-stable DoubleU Hull.
It also comes with the Old Town PDL drive which allows you to enjoy the ultimate hands-free fishing experience.
An assist strap and EVA foam on the deck make it really comfortable to stand up while fishing.
It also offers a profound universal transducer mounting system to make mounting your transducer easier than ever.
Some other impressive features are oversized stern tank well, multi-position rod-holders, Element Air seat system, and huge hull capacity.
Notable Features
Length: 10 feet six inches
Width:   34.5 inches
Weight: 73 pounds
Maximum Capacity: 440 pounds
Feelfree Lure 10
Check Feelfree Lure Kayak on Amazon
| Pros | Cons |
| --- | --- |
|  Adjustable gravity Seat |  Average tracking |
|  Four molded handles |  No rudder |
|  Easy-moving |  Heavy |
|  Excellent stability |  Slow |
Feelfree Lure 10 is a compact-sized fishing kayak with excellent maneuverability and rock-steady stability. It is a suitable kayak for shorter trips to lakes and rivers. The key features include a Wheel in the Keel, a removable multi-height adjustable Gravity Seat, a Uni-Track system, and sturdy molded-in handles.
Gravity Seat has built-in storage pockets on either side and can be raised or lowered with the simple function of a lever depending on your preference in water.
The Lure's extra-stable 36″ wide hull paired with a padded standing platform gives you the option to cast or pedal in either the sitting or standing position.
Stability is a feature you don't want to compromise on whenever looking for a fishing kayak, and Feelfree Lure 10 doesn't disappoint at all when it comes to stability. It has a flat, gripping, and solid padded platform which is about half an inch thick and really adds to the stability feature of this kayak.
Notable Features
Length: 10 feet
Width:  36 inches
Weight: 69 pounds
Storage capacity: 375 pounds
Rod Holders: 2
Vibe Kayaks Sea Ghost 130 Angler Kayak Package
Check Sea Ghost Angler Kayak on Amazon
| Pros | Cons |
| --- | --- |
|  Rudder system |  Average maneuverability |
|  Great tacking & stability |  Relatively heavy |
|  Storage |  Slow speed |
|  Extra rod holders | |
Sea Ghost 130 is a single-person sit-on-top kayak, specially designed for anglers. This is a perfect high-tech all-around kayak that excels instability from other similar kayaks available in the market. This vessel is designed for a variety of waters, you can use it on oceans, on rough rivers, and on lakes as well. However, it might not be a great option for smaller lakes and ponds because it doesn't offer great maneuverability.
The unique features of this fishing kayak include a foot-controlled rudder system, tackle tray holders, center console for additional storage, extra rod holders, large rear tank well, and easy to reach front and rear hatches.
It is also equipped with an ultra-comfortable dual position Vibe Hero seat.
Its extra-wide hull provides unmatched stability and allows you to even enjoy surfing and rough rivers.
This kayak also includes a transducer port that acts like a fish finder and helps in navigation and locating dense fish areas.
Notable Features
Length: 13 feet
Width:  33 inches
Weight: 75 pounds
Storage capacity: 550 pounds
Sun Dolphin Excursion
Check Sun Dolphin Excursion Kayak on Amazon
| Pros | Cons |
| --- | --- |
|  Lightweight |  Not for rough waters |
|  Excellent stability |  No padding under the seat |
|  Stability |  Average paddles |
|  Adjustable footrest | |
Sun Dolphin Excursion is a great fishing kayak for people who are new to kayaking sports. One of the coolest things about this kayak is incredibly cheap in price. However, there is no compromise in its features and capabilities on account of the lower price and it matches really well in quality to other high-end fishing kayaks available in the market.
Sun Dolphin has many cool features like adjustable foot braces, a portable waterproof accessory carrier, shock cord deck rigging, high-quality thigh pads, padded seat back, two-rod holders, and a swivel rod holder.
Its performance on the water is worth the price: it is quite stable, maneuverability is pretty good and the tracking on the water is not so bad either.
It is made from a high-density polyethylene material which doesn't only make it very durable but also UV resistant and flexible.
This kayak, however, is only recommended for calm waters because its hull is not designed for coastal waters and will be pushed around by bigger waves.
Notable Features
Length: 9 feet 8 inches
Width:  30 inches
Weight: 41 pounds
Storage capacity: 250 pounds
Deck Height: 13 inches
Pelican Sport The Catch 100 Kayak
Check Pelican Sport The  Kayak on Amazon
| Pros | Cons |
| --- | --- |
|  Open cockpit for storage |  Bow hatch is not close to the seat |
|  Adjustable seat |  No paddle included |
|  Incredible stability |  Susceptible to filling with water |
|  Drain Plug | |
This premium Pelican sport the catch kayak comes pre-rigged with everything you need to get out on the water for fishing. This fishing kayak is all about providing you the best and comfortable experience for your fishing adventure.
It is specially designed with patent RAM-Xtm technology, multi-layer polythene with an advanced resin in the top layer for ultimate durability and rigidity.
It also comes with a re-designed handle, which is adapted to make this kayak more comfortable and easier to handle on the water.
It has a two-position seat, which means it can be adjusted to either a higher position or a lower position. The lower position makes it easier for you to paddle while the higher position makes casting easier.
Some other great features include two gear wells on the bow and stern, four flush mount rod holders, and bungee deck lines.
This kayak is also very comfortable to stand-in because of its wide hull.
Notable Features
Length: 10 feet
Width:  34 inches
Weight: 54 pounds
Storage capacity: 350 pounds
Elkton Outdoors Tandem Fishing Kayak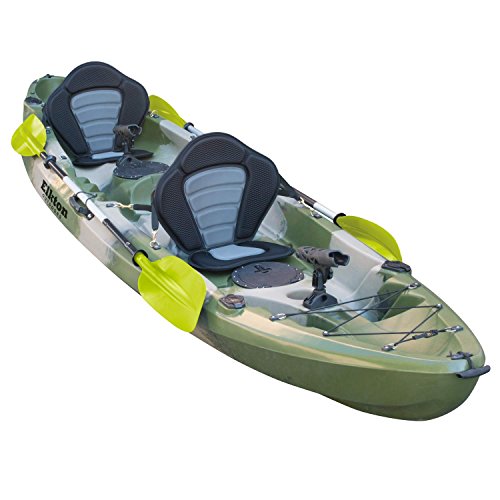 Check Elkton Outdoors Tandem Fishing Kayak on Amazon
| Pros | Cons |
| --- | --- |
|  Strong, durable construction |  Not for rough waters |
|  Easier to transport |  Vague user manual |
|  Solid yet light-weight build | |
|  Dry storage compartments | |
This Elkton Outdoors tandem kayak is designed for fishing on rivers, lakes, and the ocean. It's light in weight and has a robust structure with a well-defined design. With proper care, this kayak can be used for years as its built is really tough and extremely long-lasting.
When not inflated, it is remarkably compact and can easily fit in the trunk of your car.
It is made up of 18-gauge PVC which makes it highly restraint to rips, punctures, and abrasions.
It has two adjustable seats and comes with double sides oars, two adjustable rod holders (one trolling and one vertical), a foot pump, a repair kit, and a carry bag.
The internal storage compartments are air-tight to ensure the safety of your valuables on the water.
This tandem kayak comes with 3 removable air chambers that allow quick, easy, and convenient inflation and deflation. Because of these separate air chambers, the Elkton Outdoors tandem kayak stays afloat even with a leak until one reaches the shore.
Notable Features
Length: 12 feet
Width:  36 inches
Weight: 60 pounds
Maximum capacity: 2 person or 650 pounds
Things to Consider When Buying a Fishing Kayak
There are several types of fishing kayaks available on the market. All of these differ in one way or the other, and choosing between them can be quite a difficult task. Like any other product, you have to make sure what your requirements and expectations are from a kayak. In this way, you'll be able to make a better purchase which will be in line with the sort of kayak you want. We're listing several factors you should consider before getting a kayak in order to make a more informed purchase.
Paddling Experience
Most of the kayaks listed above are perfect for any beginner-to-intermediate kayaker. For beginner-friendly kayaks, make sure that the kayak is forgiving and isn't too quick to turn when given the input. Stability also goes a long way in instilling confidence in new riders. Beginner riders will also appreciate a cockpit that lets them move around, so they can experiment with how body movements affect the balance and stability of the kayak. More experienced users will likely prefer a tight-fitting cockpit as it allows them to operate the paddles in a much more assured manner.
Transport and Storage
Make sure that you have ample storage space available to stow away your kayak. Your kayak will most probably spend more time out of the water than in it, so you need someplace that is totally free for use by the kayak. If you're going to be kayaking often, it's better to opt for a kayak that is light and can be easily transported.
Weight Capacity
If you're planning on taking a friend along with you kayaking, it is important to note the weight capacity of a kayak. For two people it's best to get a kayak that's rated for up to 400 pounds.
Length
Length is one of the most important factors you need to think about before buying a fishing kayak. With length comes a tradeoff between speed and maneuverability. The longer kayaks (12 feet and longer) are typically the fast ones. Smaller kayaks than these are more maneuverable. For this decision, you need to look at the kind of water you'll be fishing in. Is it a huge lake? Or a small pond?
Stability
It goes without saying that you need the most stable kayak while fishing. You might need to stand while fishing, or sometimes you need to chase after a good catch and that might take a lot of turning. You should buy the kayak that maximizes stability for you.
Conclusion
Fishing is a great way to relax and get yourself some healthy and nutritious raw meat. Some people prefer boats for their fishing activities, but kayaks present a much more convenient alternative. The kayaks listed in this article are all very well-made and have good performance in the water. As we've mentioned earlier, analyze your requirements and choose the kayak that meets most of them!
Read more
Here at XGearHub, we have a lot of great material for your adventuring needs. Read the following articles to further help you in choosing the perfect kayak for you